primary school bans comic relief red noses to reduce plastic pollution
A school has banned Comic Relief red noses in a bid to curb the use of single-use plastics.
Pupils from Fourlanesend School, in Cornwall, believe that red noses are contributing to the growing plastic pollution of the oceans.
As an alternative, pupils will paint their noses red, wear red, bake red cakes and participate in a Comic Relief wake and shake dance.
The school council made the decision after concluding the plastics would simply end up at a landfill site.
In an open letter to the initiative's organisers, the school council issued their admiration and support for the 'wonderful work' Comic Relief does, but expressed concerns that the red noses would only end up damaging the environment.
It added that polystyrene foam materials, such as those used to make Comic Relief noses, are often ingested by fish and birds.
The letter also stated that the move was brought about by the outrage over plastic pollution in the seas, highlighted by the BBC Blue Planet programme.
In response, the school received a hand written response from Sir David Attenborough who praised them for raising the issue and for asking Comic Relief about how the noses are made.
The esteemed presenter wrote: "Dear Fourlanesend C.P School Council, thankyou for your letter. I think you are perfectly correct to revise the question of replacing plastic products wherever we can and I hope you get an adequate answer from Comic Relief. Best Wishes, David Attenborough."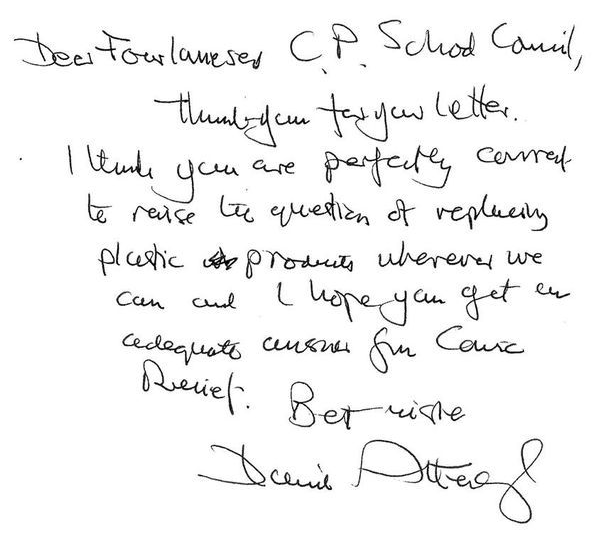 A spokesperson for Comic Relief said: "We are really grateful to everyone who fundraises for Comic Relief to raise money for all our amazing projects and organisations.
"Red Noses are designed to be collectable, cherished toys, however they can also be recycled at Sainsbury's supermarkets."